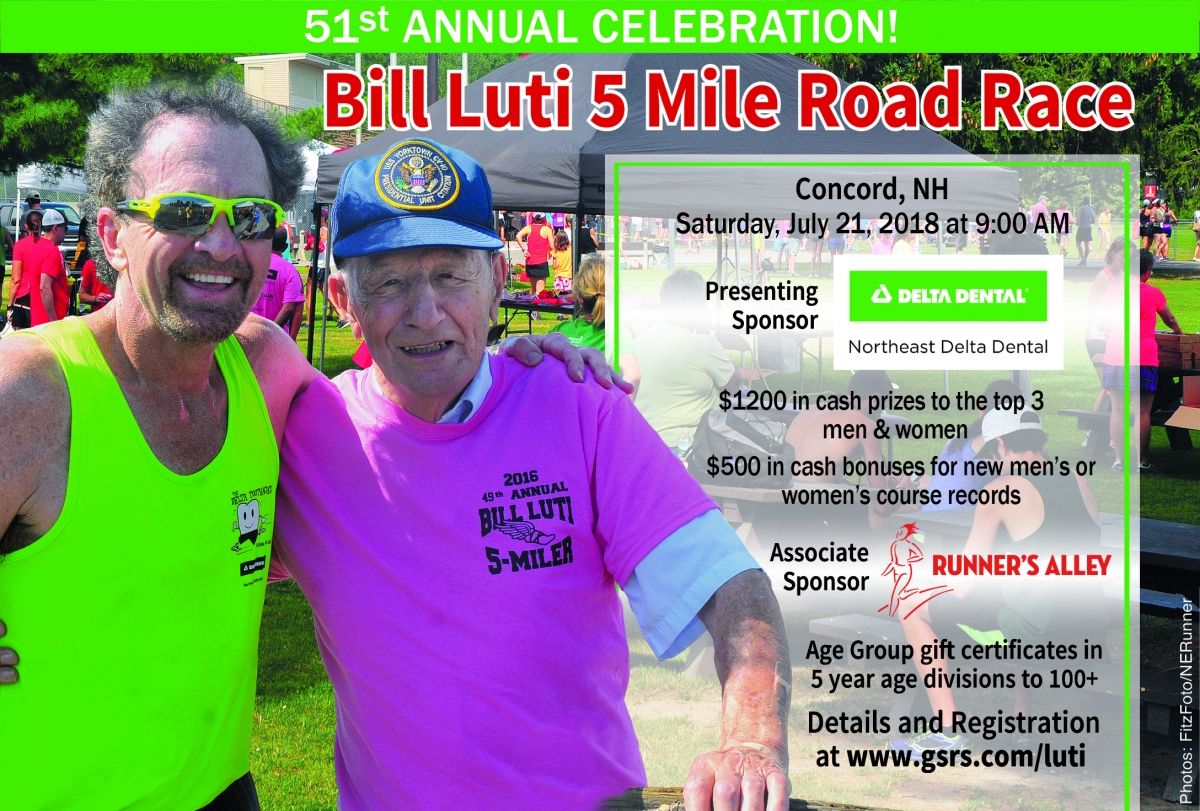 (Ad courtesy of New England Runner)
Memorial Field
70 South Fruit St.
Concord, New Hampshire
9:00 a.m., Saturday, 21 July 2018

Online registration is $15 plus a $2.19 processing fees – you will receive immediate confirmation of entry and are guaranteed a t-shirt. On-line Registration closes the Friday before the race at 7:00am
Former male and female race winners receive free lifetime entry to the race. Please contact Bob Teschek directly at bob@gsrs.com for the pass code to enter free online.
Paper entry received by Monday of race week is $20 and you will be guaranteed a t-shirt.
Race day signup is $25 and t-shirts are not guaranteed, so arrive early before we run out! Race day registration is from 7:00 – 8:45.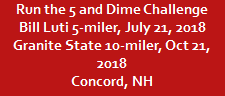 Back in 1968, coach Luti helped organize what was to become one of the oldest footraces in New England - the "Concord 5-Miler." In recognition of his many contributions to the sport of running - and to the many lives he has touched - the race was named in his honor in 1984.
USATF Certified NH17005BK 5 Mile.
Start on Clinton St. where the first mile is mostly flat. Starts are chip timed. Mile 2 includes a 6/10 mile hill (Clinton St. then right onto Silk Farm Road). Mile 3 is mostly flat with some downgrades near the end (Silk Farm to Dunbarton Road).  Mile 4 begins slightly down then climbs to Pleasant Street with a hill as the course turns east on Pleasant. Mile 5 soon takes a right into the Pleasant View Retirement Community grounds, passing in front of the main building and continuing down Reddington Road all the way to Fruit St. Then right on Fruit and right into Memorial Field. Finish will be on the track. See course map below which will expand to a large pdf file.
Fun Run Course: We will have 400 M and 800 M (1 & 2 Laps on track) races for ages 9 & under and 10-12 starting at 10 AM. Emphasis is always on finishing and having fun.