T-Shirts: Bill Luti 5 Miler: A 100% cotton race t-shirt will be given to all those who register online, as well as paper entries received by July 16th. Sizes guaranteed to registrants through July 1.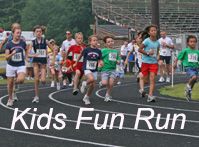 Kids 400 M & 800 M Fun Runs at 10:00 AM: A Commemorative fun-run T-shirt will be given to the first 30 to register. Registration is free with signup available only on race day. First boy & girl in each race will receive Fun-Run sweatshirts.
Refreshments: Hot dogs, fruit, water and soda will be available.
5 & Dime Challenge: Again for 2018 the Luti race is part of the 5 & Dime Challenge with the Granite State 10-miler on October 21st.
Awards: 10:15 ceremony at Memorial Field.  Cash prizes awarded to the first three men and women (gun time order) and these six runners will be excluded from the age division awards:
Prize money (awarded by gun time):
1st Place = $300
2nd Place = $200
3rd Place = $100
 
Age division awards (Top 2 by net/chip time): 15 & under, 16-19, 20-24, 25-29, 30-34, 35-39, 40-44, 45-49, 50-54, 55-59, 60-64, 65-69, 70-74, 75-79, 80-84, 85-89, 90-94, 95-99, 100+.
The Delta Dental Challenge: $500 for a new men's or women's course record from Northeast Delta Dental!
Course Records (A new course was established in 2009 with the distance moving from 8k to the full 5 miles, so new course records were established starting that year.):
Men - Lex Williams - Hanover, NH - 24:34.8 - 2011
Women - Rachel Schilkowsky - Roxbury, MA - 27:55.4 - 2017
Water Stations: Available at Memorial Field before and after the race as well as at 2 locations on the course.
Race Announcing: Announcers on the Run will provide race day announcing featuring Andy Schachat as the voice of the Bill Luti Road Race.
Timing and Scoring by Granite State Race Services: Start and finish will be timed using Chronotrack Systems in order to provide each runner with a net/chip time in addition to a gun time.  Instant results, messaging, individual results emails, and onsite results kiosk provided using iResults Live.