T-Shirts: Bill Luti 5 Miler: A 100% cotton race t-shirt will be given to all those who register online, as well as paper entries received by July 13th. Sizes guaranteed to registrants through July 3.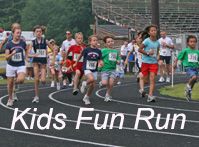 Kids 400 M & 800 M Fun Runs at 9:15 AM: A Commemorative fun-run T-shirt will be given to the first 36 to register. Registration is free with signup available only on race day. First boy & girl in each race will receive Fun-Run sweatshirts.
Refreshments: Hot dogs, fruit, water and soda will be available.
Awards: 9:30 ceremony at Memorial Field.  Cash prizes awarded to the first three men and women (gun time order) and these six runners will be excluded from the age division awards.
Prize money (awarded by gun time):
1st Place = $300
2nd Place = $200
3rd Place = $100
 
Age division awards (Top 2 by net/chip time): 11 & under, 12-15, 16-19, 20-24, 25-29, 30-34, 35-39, 40-44, 45-49, 50-54, 55-59, 60-64, 65-69, 70-74, 75-79, 80-84, 85-89, 90-94, 95-99, 100+.  (Age prizes provided by Associate Sponsor Runner's Alley)
The Delta Dental Challenge: $500 for a new men's or women's course record from Northeast Delta Dental!
Course Records (A new course was established in 2009 with the distance moving from 8k to the full 5 miles, so new course records were established starting that year.):
Men - Lex Williams - Hanover, NH - 24:34.8 - 2011
Women - Emily Durgin - Brighton, MA - 26:49.1 - 2018
Water: Available at Memorial Field before and after the race as well as at 2 locations on the course.
Race Announcing: Announcers on the Run will provide race day announcing featuring Andy Schachat as the voice of the Bill Luti Road Race.
Timing and Scoring by Granite State Race Services: Start and finish will be timed using Chronotrack Systems in order to provide each runner with a net/chip time in addition to a gun time.  Instant results, messaging, individual results emails, and onsite results kiosk provided using iResults Live.
Race Direction by Granite State Racing Team.